Press "play" to start the soundtrack.
​​​​​​​
Our vision is to create an exhibit in which people can see and hear art in a new way through the combination of a series of abstract paintings with sound compositions.
Each painting will have a corresponding and complementary soundscape. As viewers/listeners move through the exhibition space, they will experience changing views of the visual components, as well as altering audio environments as the soundscapes blend.
We will seek to expand the scope of the project to an international audience by producing an accompanying online virtual reality experience. This will allow a world-wide audience to move through the space virtually and experience the dynamically shifting progression of sight and sound.
Our goal is to create an immersive and compelling experience that would invite people to both listen and see on a deeper level.
As a response to the rapid and superficial way in which we all tend to perceive the world in the rush of daily life, this exhibit will present an unusual opportunity to meditate on a range of richly textured visual and auditory images. This experience has the potential to enhance our understanding and appreciation of the relationship between these two senses—seeing and hearing—and how they affect our psychological and emotional state. The exhibit will also encourage closer engagement with these senses by drawing attention to the enhanced level of detail and nuance they can reveal.
The exhibit will consist of a series of at least twelve paintings, approximately 120 by 180 cm in a vertical orientation. This could be expanded to include horizontal works on a similar or larger scale, as well as additional smaller works. The painted works will feature a layered range of organic and mechanically derived textures, complemented with layers of translucent color and hard-edged lines and shapes. The soundscapes will be broadcast via a digital sound map which listeners can access through bluetooth headphones.
Musically, each composition will employ a simplicity and minimalism which demands a certain amount of attention from the listeners. These compositions, however, while extant individually, collectively will combine to create something different and complex, a polyphonic maximalism, which will vary depending on the listener's positioning within the exhibition.
The exhibit will explore a number of themes summed up in the idea of a "spectrum".
Human auditory and visual perception operates on a vast tonal range of sensory inputs that profoundly affect the psyche. The effect of color on mood and mental state is a commonly understood phenomenon, as well as the power of various combinations of auditory tones. The pace of current life both exploits and undercuts these effects as it disconnects people from deeper experiences of these senses. 
A spectrum is also commonly understood as a range of mental and behavioral conditions that create significant obstacles for many people to engage with society on an equal level.
This exhibit creates a space inviting all people to reconnect with these senses and to consider them in new combinations.
The work will also reflect the idea that people perceive and interact with the world from a diverse range of experiences, perspectives and cultural contexts. Our current media landscape disregards this reality in favor of attention-grabbing sound-bytes. The increasing polarization and discord in our current culture is a direct result of perceiving and relaying information through polarized lenses, rather than a truthful consideration of the full spectrum of ideas and experiences. We invite the audience to engage with nuance, texture and detail, thereby offering a reprieve from, and possibly an antidote, to feelings of disconnection.
The collaborative nature of the project will produce a cogent dialog between the visual and auditory elements of the exhibit. Mutual inspiration between two artists from differing backgrounds and disciplines will drive the creative process. The paintings will be rendered in reference to Aidan's substantial body of work as a musician. He will in turn design the sound compositions in direct response to the paintings. 
This is also an exhibit concept with potential to appeal to a wide range of people, as it relies primarily on abstract and subjective imagery that circumvents language barriers. Therefore, we envision presenting subsequent versions of the exhibit in various locations. While the digital virtual reality component will serve to maximize the reach of the project, the physical experience will offer the deepest and most affecting level of engagement. 
We believe this combined effort will produce a unique and relevant contribution to contemporary art, and we look forward to sharing it with the world.
Aidan Baker is a classically-trained multi-instrumentalist using the electric guitar as his primary instrument. Utilizing prepared and alternate methods of playing the guitar, with the addition of various electronic effects, Baker creates music which generally falls within the ambient/experimental genres but draws on influences from rock, electronic, classical, and jazz. A highly prolific artist, Baker is active both as a solo artist and with various group projects—most notably the duo Nadja, with his partner Leah Buckareff—and has released numerous albums on such labels as Gizeh Records, Karlrecords, Important Records, Alien8 Recordings, and his own imprint, Broken Spine Productions. A regular live performer, Baker has toured extensively around the world, including appearances at such international festivals as FIMAV, SXSW, Incubate, Unsound, and Mutek, among others. Originally from Toronto, Canada, Baker currently resides in Berlin, Germany.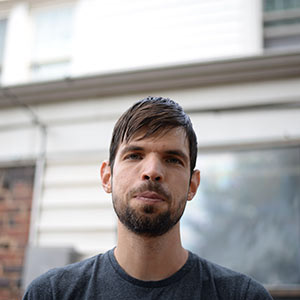 Björn Bauer is an exhibiting painter, printmaker, illustrator, and art instructor born in Nürnberg, Germany in 1980. In 1988, he moved with his family to the Philippines and spent the rest of his childhood in Southeast Asia, including Cambodia and Malaysia. He has been making images for as long as he can remember; everything that interested him became inspiration for a drawing or painting. He moved to Oklahoma in 2000, and graduated from the University of Central Oklahoma with a Bachelors in Fine Art and Education in 2005. Holding his first solo exhibit of paintings at IAO gallery in Oklahoma City in 2006, has also worked as an art educator for over twelve years at the secondary and collegiate levels. Branching out into illustration and printmaking, he has shown at SXSW and Pitchfork Music Festival, and created poster and album art for major touring musicians. In 2019 he earned his MFA in painting from the University at Albany in New York, and now lives in Munich, Germany.
Join us in bringing this vision to reality.
Thank you, we'll be in touch!